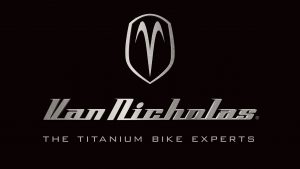 Pedal Barn are very proud to be a UK partner with the prestigious Van Nicholas company from the Netherlands.
Van Nicholas are one of the few genuinely iconic names in the cycle industry.
The Van Nicholas brand is associated with the metal Titanium and the use of this material in building high
performance cycle frames of exceptional quality. There are several companies that use titanium as the
material for building cycle frames, but none that match the conceptual approach, or the finished products
and culture of Van Nicholas. The company has immersed itself in the titanium idea and over the years
have forged themselves into the pre-eminent titanium cycle manufacturer in world cycling. Van Nicholas
defines the genre and we at Pedal Barn are indeed proud to represent them and to demonstrate
and provide Van Nicholas cycles to our customers.
Van Nicholas Bicycles    Titanium?   Roadbike Frames   Touring/Trekking Bike Frames  MTB and Cyclocross Frames   Front Forks   Titanium Parts & Accessories   General Spares & Accessories   Clothing

© Pedal Barn 2017