Servicing and repairs
Keeping your bike regularly serviced and maintained is vital to ensure smooth and safe cycling. This will also add to the enjoyment by allowing the miles to flow with lower effort from the rider. Regular servicing is also cost efficient as worn parts are replaced before additional wear occurs and incurring additional costs.
Free Service
All bikes purchased from PEDAL BARN come with a free service at 6 weeks. This ensures the bike is running-in correctly and meets the warranty requirements.
Service Frequency
We recommend low infrequent riders have a general service once a year. This will ensure your bike is running safely and efficiently, in particular gear/braking performance and tyre condition.
Riders who rack up many miles on or off road may want to consider two services per year. For example, this will insure all bearings are running smoothly with no trapped foreign particles increasing wear and resistance.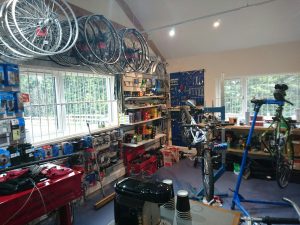 Description

General Service

£45 Excluding parts

Gold Service

£69 Excluding parts

Frames & Forks
Wiped down, visually check for damage & Alignment
Y
Y
Wheels
Hubs and rims checked for damage & wear
Y
Y
Hubs dismantled, wheel bearings greased and reset
Y
Wheels trued & spokes tensioned (where necessary)
Y
Tyres
Tyres & side walls checked for wear and inflated to correct pressure
Y
Y
Bolts
Checked and tightened accordingly
Y
Y
Remove seat post, clean, lubricated and refitted
 Y
Y
Headset
Checked for movement & adjusted as necessary
Y
 Y
Headset re-greased
Y
Drivetrain
Checked for wear, indexing & re-lubricated
Y
 Y
Check and clean cassette, lubricate, chainset, chain, front & rear mechs
                              Y
 Y
Clean, check, lubricate bottom bracket where required
 Y
Check pedals for wear and lubricate where required
 Y
Brakes
Check & adjust brakes for correct operation & pad wear
 Y
 Y
Stand Alone jobs

Cost Excluding parts

Puncture repair/fitting new tube
Front wheel
£6
Rear wheel
£6
Front wheel fitting
Fit wheel, tyre & tube
£10
Rear wheel fitting
Fit wheel, cassette, tyre & tube
£15
Bottom bracket fitting
Re-cut thread and fit bottom bracket
£15
Frame preparation – facing
£15
Headset fitting
Quill or A-Head
£25
Bleed hydraulic brakes
Per brake – includes brake fluid
£20
Wheel truing – excluding spokes
From £15
Hub Servicing
Front wheel hub
From £10
Rear wheel hub
From £15
Bike reframing
Transfer all components from one frameset to another
£95
Building/setting a bike purchased elsewhere
£50
Shock Servicing
Servicing all major brand front & rear shocks
£POA
Component Fitting Charges
Cost
Excluding parts
Pair of brake blocks/pads
£5
Brake cable
£8
Gear cable
£8
Cable – Internal Routing
£12
Pair of pedals
£3
Cassette/freewheel
£8
Chain
£5
Chainset
£10
Rear or front mech
£8
Brake calliper
£5
Front or rear carrier
£7.50
Front or rear basket
£7.50
Full length mudguards
£12
Clip on mudguards
£7.50
Light set
£3
Propstand
£3
Cycle computer
£10
Handlebar grips
£8
Handlebar tape
£16.50
Saddle/seatpost
£4
We request that all bikes brought in for service or repair are in a clean condition. Additional cleaning will be charged above our standard rates.
All prices quoted apply to parts purchased from Pedal Barn. Additional charges may be incurred for items purchased elsewhere.
Prices quoted are guide prices and may be subject to change upon inspection of the bike. We reserve the right to cancel additional work if the bike is considered unsafe until essential safety work is completed.
Bikes not collected within 5 working days will be subject to an additional storage charge, unless previously agreed.